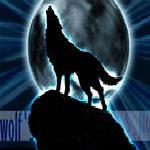 glitter-graphics.com
I now understand the lure of the Amazon ratings -- I've been hooked by the Fictionwise ratings for The Werewolf Whisperer. I didn't even realize the book was offered through Fictionwise until one of my friends (the lovely
Stephani Hecht
, author of Angel Warriors, notified me that I'd taken her spot on the publisher's bestseller list - sorry Stephani!). At that point it was #3 for StarDust Press and #83 in the erotica category at Fictionwise.
Well, when I checked the Fictionwise list this morning, The Werewolf Whisperer was at #2 for StarDust Press and #47 for erotica! It's also got reader ratings, which is nice feedback!
~~~~UPDATED~~~9/25 This morning I checked Fictionwise (see, it's an addiction!) and I just took the #1 Bestseller slot for my publisher and #45 in Erotica!! Woot, woot!
9/26 -- crept up to #44 with 8 reader ratings!!
So, thanks to everyone who's bought a copy. And remember, it's available for only a short time longer~